Experian credit freeze
Experian credit freeze account holders will breeze through this step-by-step guide on how to freeze their credit at Experian. An Experian credit freeze is a tool that allows consumers to secure their credit reports and prevent unauthorized access. It's a simple and effective way to protect against identity theft and other types of credit fraud.
Don't have an Experian account yet? Follow this link to create an Experian account so you can freeze and unfreeze your credit quickly.
Experian recently introduced accounts to log into, but the bureau tries to direct you to 'lock' your credit rather than freezing it. Make no mistake: a credit lock is not the same thing as a credit freeze. This step-by-step guide on how to freeze your credit at Experian covers how to freeze your credit for free and avoid paying Experian any money for their consumer services. Remember, freezing and thawing are entirely free by law; you never need to pay for them.
1. Log in to your Experian Account
Follow this link to log in to your Experian account: https://www.experian.com/help/login.html
On the left side of the page, there is a big "Sign into your account" button. Click it to continue, then fill in your username and password. You may also need to perform an extra 2-factor verification step to log in by getting a code from Experian.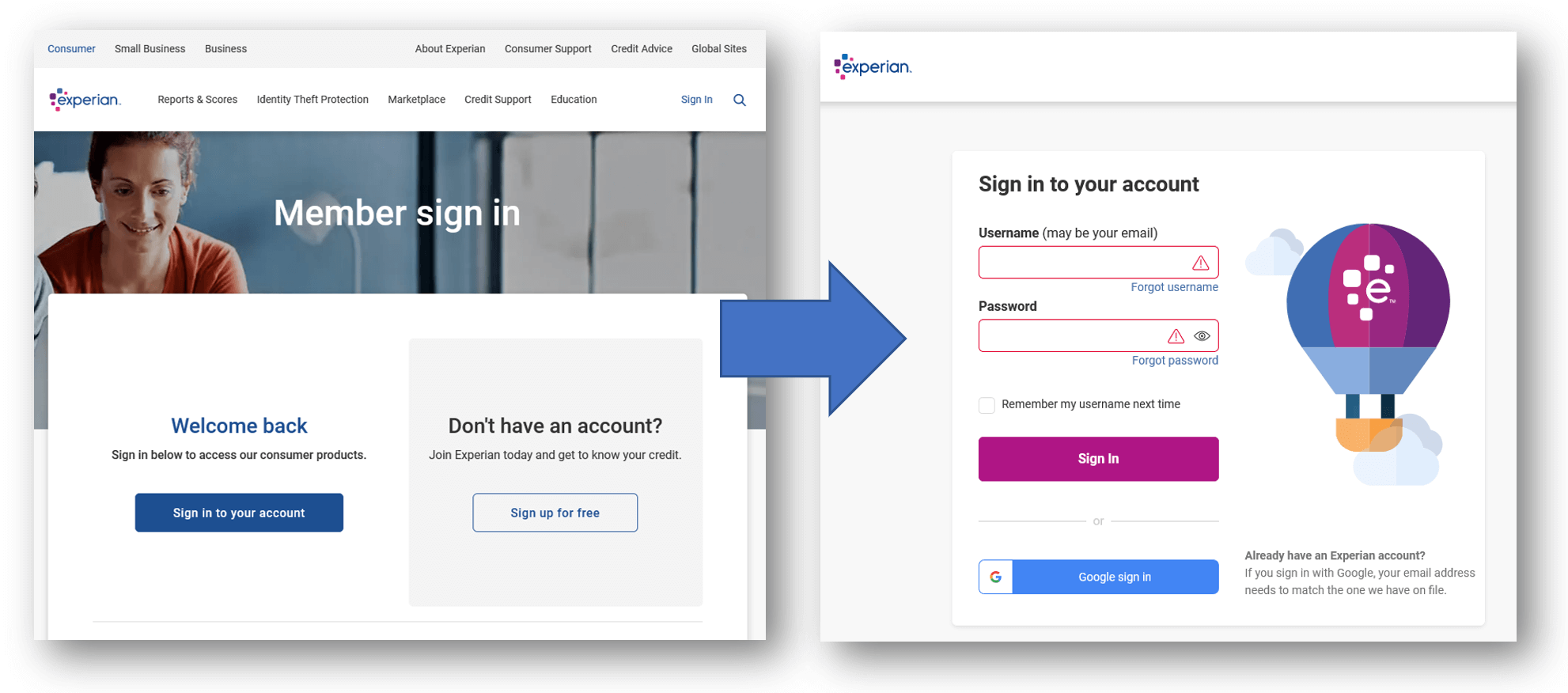 2. Skip the Upgrade Page
Experian has many consumer products that they want you to pay for. You do not need to pay Experian anything to freeze and unfreeze your credit. Click the blue "no, keep my current membership" button to continue.
3. Find the "Go to protection" Link
Experian will continue to place their services more prominently than a credit freeze in an attempt to get money from you. Ignore the 'credit lock' product and click on the "go to protection" link in the Protection section to continue. It would be nice if there were a simple 'freeze' button in this section like there is to unfreeze your credit at Experian, but that is not the case.
4. Find the small Security Freeze link
Experian makes their CreditLock product more prominent here because they want you to pay for something that sounds like a security freeze but isn't. Ignore the big, flashy CreditLock button and click the little link "security freeze" to continue.
5. Place an Experian credit Freeze
You're finally on the page where you can place a security freeze. Click on the 'Unfrozen' toggle button to place a security freeze at Experian.
6. Confirmation
That's it! You just froze your credit at Experian!
Shortly after the toggle animates and changes to "Frozen," you will see a confirmation dialog box in the bottom right of your screen. If you don't see a confirmation and are unsure that you have frozen your credit, try refreshing the page. You will also receive a confirmation email from Experian.
Complete all credit bureau Freezes
With your Experian account, an Experian credit freeze is pretty straightforward. However, freezing your credit only at Experian will leave your credit files at the other bureaus available and vulnerable to identity theft. If you haven't already done so, freeze your credit at TransUnion and Equifax to fully protect yourself. They are similar companies to Experian and can be considered alternatives to an Experian credit freeze.
Whenever you want to use your credit in the future, use our guides to unfreeze your credit. The best identity theft protection is to temporarily lift your credit freeze when you apply for a new account.
Benefits of an Experian Credit Freeze
People may choose to freeze their credit with Experian for many reasons. A credit freeze is an effective way to prevent unauthorized access to your credit report. By freezing your credit, you control who can access your credit information and when. Here are some common reasons why you may want to consider freezing your credit with Experian :
To prevent identity theft: Freezing your credit is one of the most effective ways to prevent identity theft. It stops thieves from opening new accounts in your name.
To protect your personal information: A credit freeze helps to protect your sensitive personal information, including your Social Security number (SSN), date of birth, and current and previous addresses.
To secure your financial information: Freezing your credit can also protect your financial information, such as your bank accounts, investment accounts, and credit card information.
To avoid credit fraud: Freezing your credit can also prevent credit fraud, such as opening unauthorized credit accounts or using your personal information to obtain loans or credit cards.
In conclusion, freezing your credit with Experian can provide peace of mind and protection of your personal and financial information. It is a simple and effective tool to secure your credit report and prevent unauthorized access.