Freeze Experian
Experian account holders will breeze through this step-by-step guide on how to freeze their credit at Experian. Don't have an account yet? Follow this link to create an Experian account so you can freeze and unfreeze your credit quickly.
Experian recently introduced accounts to log into, but the bureau tries to direct you to 'lock' your credit rather than freezing it. A lock is not a freeze. This step-by-step guide on how to freeze your credit at Experian covers how to freeze your credit for free and avoid paying Experian any money for their consumer services. Remember, freezing and unfreezing are entirely free by law; you never need to pay for them.
1. Log in to your Account
Follow this link to log in to your Experian account: https://www.experian.com/help/login.html
On the left side of the page, there is a big "Sign into your account" button. Click it to continue, then fill in your username and password. You may also need to perform an extra 2-factor verification step to log in by getting a code from Experian.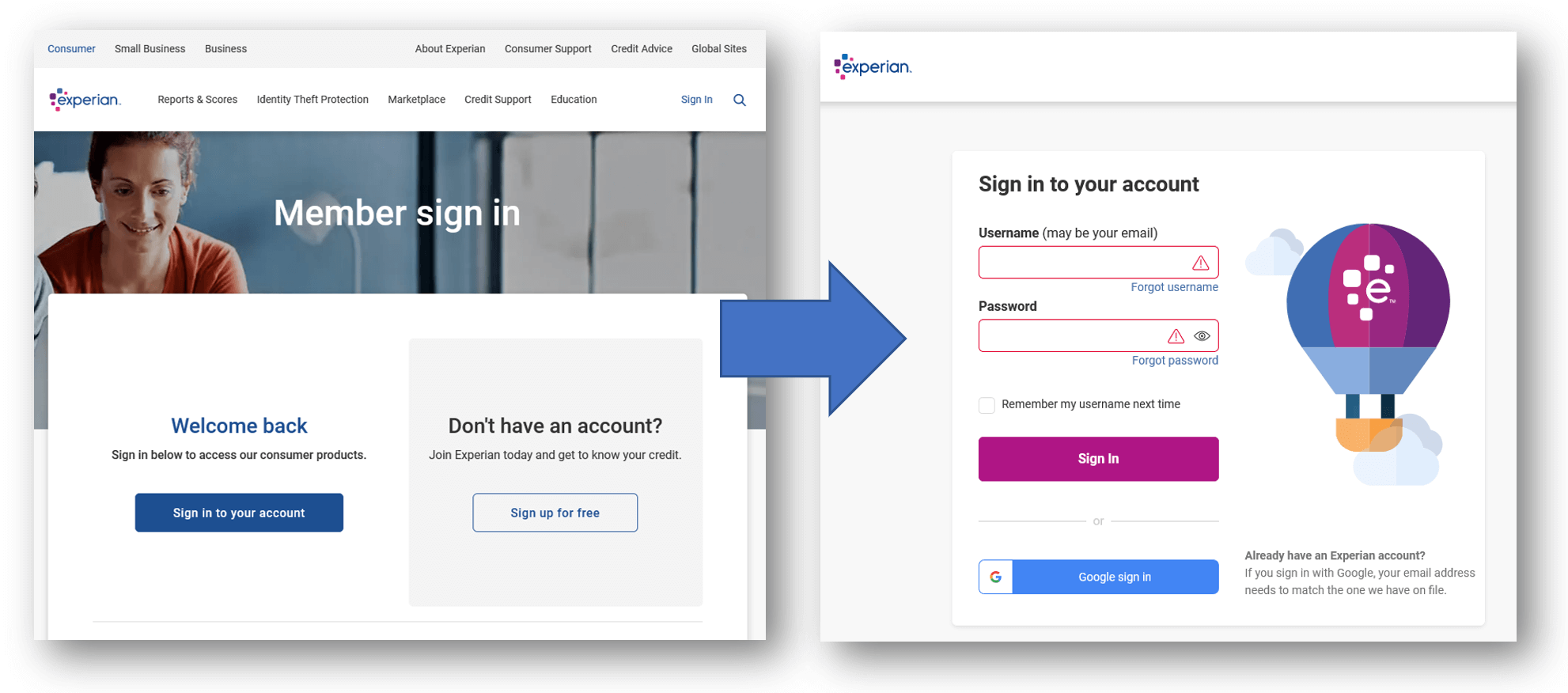 2. Skip Upgrade Page
Experian has many consumer products that they want you to pay for. You do not need to pay Experian anything to freeze and unfreeze your credit. Click the blue "no, keep my current membership" button to continue.
3. Find the "Go to protection" Link
Experian will continue to place their services more prominently than a credit freeze in an attempt to get money from you. Ignore the 'credit lock' product and click on the "go to protection" link in the Protection section to continue. It would be nice if there were a simple 'freeze' button in this section like there is to unfreeze your credit at Experian, but that is not the case.
4. Find the small Security Freeze link
Experian makes their CreditLock product more prominent here because they want you to pay for something that sounds like a security freeze but isn't. Ignore the big, flashy CreditLock button and click the little link "security freeze" to continue.
5. Place a Freeze
You're finally on the page where you can place a security freeze. Click on the 'Unfrozen' toggle button to place a security freeze at Experian.
5. Confirmation
That's it! You just froze your credit at Experian!
Shortly after the toggle animates and changes to "Frozen," you will see a confirmation dialog box in the bottom right of your screen. If you don't see a confirmation and are unsure that you have frozen your credit, try refreshing the page. You will also receive a confirmation email from Experian.
Complete the Freeze
With your Experian account, how to freeze your credit at Experian is a bit tedious to navigate and ignore the company's attempts to sell you things. However, freezing your credit only at Experian will leave your credit files at the other bureaus available and vulnerable to identity theft. If you haven't already done so, freeze your credit at Equifax and TransUnion to fully protect yourself.
Whenever you want to use your credit in the future, use our guides to unfreeze your credit. The best identity theft protection is to temporarily lift your credit freeze when you apply for a new account.