myEquifax account holders will breeze through this step-by-step guide of how to unfreeze your credit at Equifax. Don't have an account yet? Follow this link to create a myEquifax account at Equifax so you can freeze and unfreeze your credit easily.
1. Login to your Account
Equifax uses "myEquifax" as its consumer account system to control credit freezes. The myEquifax logo looks a little different than the other Equifax branding, which is expected. Equifax is a credit bureau, not a design studio. Login to your myEquifax account here: https://my.equifax.com/membercenter/.
If you see a "We are temporarily unable to complete this request" screen like this one when signing in, there's an issue with your account. You will not be able to complete your unfreeze online or by automated phone. The only way to complete your unfreeze is to call Equifax at 888-298-0045 (their customer care line) from 9am-5pm Eastern Time, Monday through Friday. Equifax may have expanded hours for COVID-19 support. Follow the automated prompts, inputting your SSN and the other information it asks for. When the phone system fails to unfreeze your file automatically, it will connect you with a human agent. The agent will confirm your information and process the unfreeze request.
It costs Equifax more money to force everyone to speak to a human than it would to let customers do it themselves through the myEquifax portal. If Equifax's system availability is unacceptable to you (as it is to us), we invite you to file a CFPB complaint, call your congressperson, or tweet at Equifax's executives.
2. Manage a Freeze
After you sign into your myEquifax account, you will see your account dashboard. On the upper-right side of the page, there is a "Manage a freeze" link. Click the link to continue.
3. Two Step Flow
Clicking on the link brings you into Equifax's two-step flow, where you need to selection some radio buttons. Choose whether to temporarily or permanently remove a freeze, accept the terms of use, and click the Next button.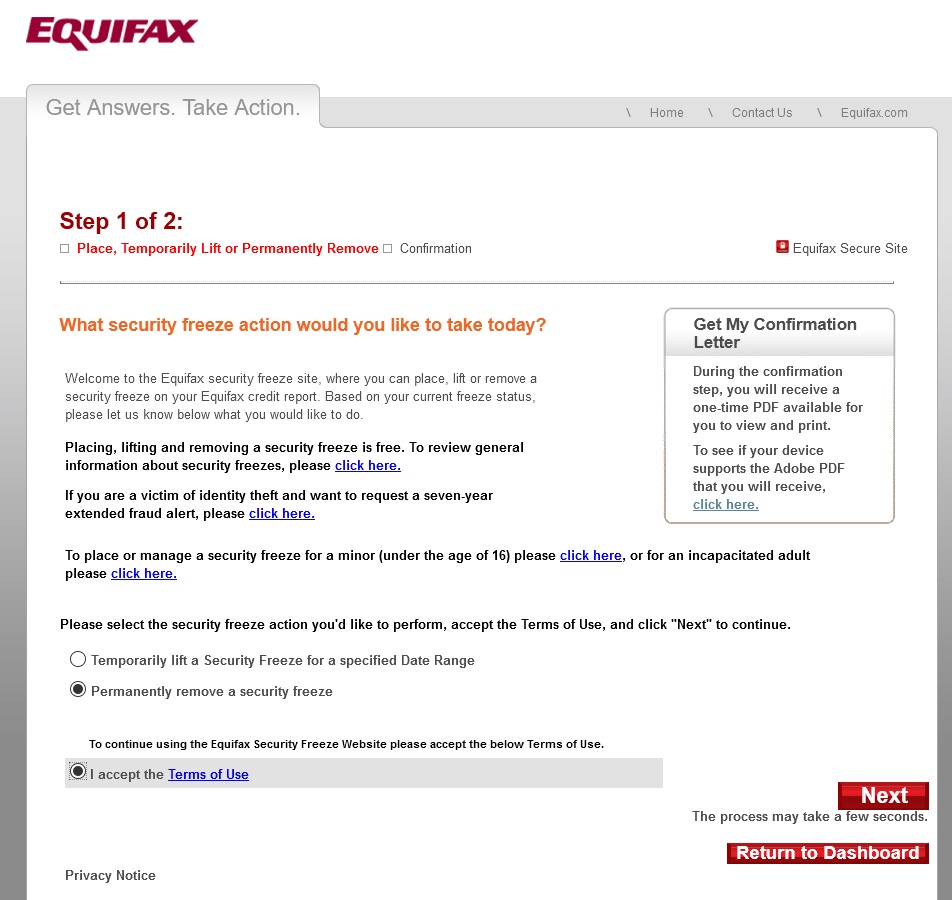 4. Confirmation
That's it! You just unfroze your credit at Equifax! No PIN was needed. The PDF on the final step page is the only confirmation document that Equifax provides, so be sure to save it if you need it. Equifax does not send a confirmation email.
What to do with Unfrozen Credit
Use it! Unfrozen credit means you are free to apply for new credit cards, get approved for a mortgage, or apply for other credit products. If you found Snowcap.Me helpful or want to support our mission, shop our latest offers by clicking the button below.
Important note: With your myEquifax account, how to unfreeze your credit at Equifax is pretty straightforward. However, unfreezing your credit only at Equifax may cause a new credit application to fail if your Experian or TransUnion credit files are still frozen. If you haven't already done so, unfreeze your credit at Experian and TransUnion to be certain a company can check your creditworthiness.
After you use your unfrozen credit, be sure to re-freeze your files so you are once again protected against major identity theft. You can use our freeze guides to re-freeze your credit.